Simplify the way you deliver
high-definition audio and visual content
Bizco's cutting-edge AV solutions offer new, exciting technology for your audio, video, and control system needs. Our team of expert technicians provides comprehensive service for all your AV needs so your team can focus on their work. Amplify your sound, remove, and simplify the way you present high-definition content.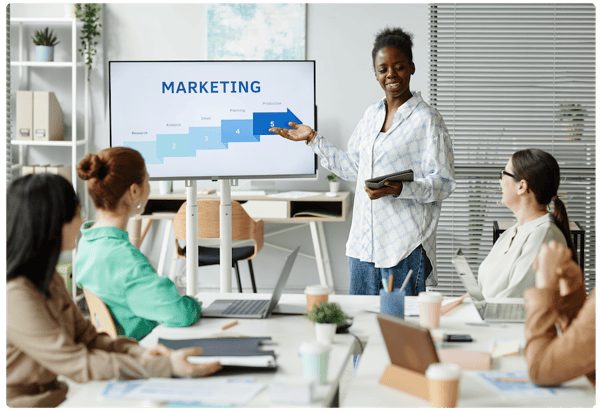 See the difference the
right AV solution

can make

Our engineers don't wait around for things to break. We proactively work to identify technology gaps, streamline, secure, and protect your network for

Create a stunning video canvas at any scale with modular direct view LED video wall panels. This long-lasting technology can be used indoors and outdoors.
Read More →
LED Video Walls

Shared spaces must meet the audiovisual needs of many. Bizco simplifies complex AV systems with custom user interfaces and automated component integration.
Read More →
AV Control & Distribution Systems

Bring Zoom to the boardroom! Bizco engineers can integrate Zoom or Teams with microphone arrays and cameras for a superior conferencing experience in any room.
Read More →
Video Conferencing

We offer a variety of wired and wireless microphones, perfect for any venue and every budget. Bizco audio engineers configure the latest in digital signal processors to produce the best sound possible.
Read More →
Professional Sound

Replace your dim projector with a new low-maintenance laser model. There are no lamps to change ever! Bizco will help you select a bright
projector and screen size that is appropriate for your space.
Read More →
Video Projection

Increase productivity with face-to-face engagement, even when remote. Intelligent camera technology can automatically zoom to show a small group in a large room or the individual speaker in a large group.
Intelligent Auto Framing Cameras

Are your remote meetings interrupted by an annoying echo? Does your meeting venue often produce deafening audio feedback? Bizco can evaluate your system and suggest changes to eliminate common audio problems.
Audio Signal Processing

Selecting the appropriate loudspeakers and amplifiers for your venue is critical to speech intelligibility. Bizco can help you select the best system for your environment.
Read More →
Sound Reinforcement

Install digital signs in high-traffic areas to dynamically keep your target audience informed and engaged. We can help you select
hardware and plan your deployment.
Read More →
Digital Signage

If you'd like to bring your live event to the masses, Bizco engineers can help you select the right AV
hardware to integrate with popular hosted streaming services like Facebook Live and Youtube.
Read More →
Video Streaming

Hard surfaces like glass & polished concrete in today's built environments can cause acoustic reflections that effect our ability to hear clearly. Custom acoustic panels can help absorb and diffuse stray audio waves.
Read More →
Acoustic Treatment

Open offices can be very distracting, especially when conversations from across the room can be easily heard. Sound masking systems reduce intelligibility in these workspaces, allowing individuals to focus.
Read More →
Sound Masking

We're here to help

at every step
We know that new technology can be intimidating, so we're here to set you up for success

Hear from customers

who have trusted us with their AV solutions